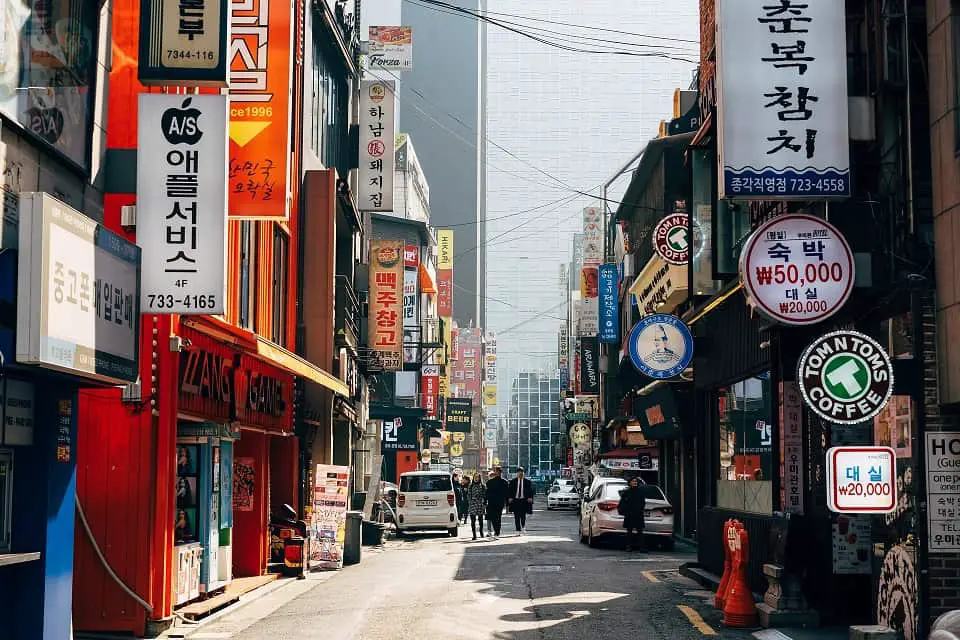 When it comes to investing, why limit yourself to your home country. There is a whole universe (world) of stocks that are undervalued. One of the cheapest markets in the world is currently South Korea (2020). So why wouldn't you want to buy in. but, can foreigners buy stocks in South Korea?
Yes, foreigners can buy stocks in South Korea. The problem is few brokerages allow it. Instead many opt to buy Korean ETFs or ADRs to gain exposure. In order to gain access to smaller, individual stocks in South Korea you can use Monex Boom or Poems.
So you have made the choice to invest overseas, specifically South Korea, below I outline the suggested brokerages and the pitfalls you may encounter. As well as alternatives to buying individual stocks.
How to Buy Korean Stocks Outside of Korea
They don't make it easy that's for sure. One way you can buy stocks in Korea is to buy ADR's or American depository receipt. This is essentially investing with extra steps, for the bank not you.
The bank buys shares in a foreign company and issues the receipt to anyone who wants to invest in the shares, as an individual you don't even need to worry about the exchange rate because its denominated in dollars.
Beware that the ADR you are buying is denominated in the way you want it, since its not always a one for one ratio sometimes one ADR purchase could be multiple shares.
It all seems so complicated to me and to be honest, I don't like the idea of these American banks being my middle man, plus I don't even get to choose from all the stocks that I want, only what the bank has in stock.
There are two brokerages that I currently know of that will allow you to trade individual South Korean stocks. I'll keep this updated as I become aware of more or things change.
Read below for some information on the pros and cons of using these brokerages.
Monex Boom a Way to Invest in Individual Stocks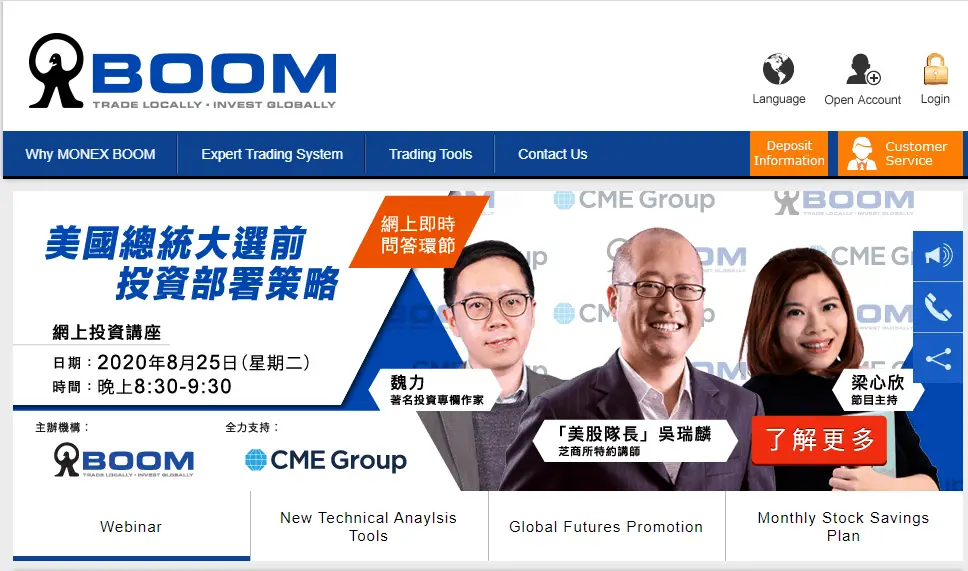 Monex Boom is a Hong Kong based company that specializes in the Asia Pacific countries. You can buy stocks from multiple countries in the region and also maintain those specific currencies in your account.
If your American, you can even have USD currency sitting idle in your account. Then when you need to, you can convert the currency to the South Korean won and buy stocks.
Safety of Capital
As far as I can tell, there is no FDIC insurance so you might wan't to only limit yourself to buying Korean stocks and use another broker for any other stocks. The one I like it use is Interactive brokers.
I also was trying to find out whether or not they keep your cash separate from their corporate cash and I see that listed nowhere. Its not good that the company does not tell you up front your money will be kept safe in case the company goes downhill.
However, I suspect the money is fairly safe as Monex owns Boom and Monex is a Japanese group. However, the business is fully run out of Hong Kong which is now fully Chinese controlled, which poses some problems.
Trading Costs
The trading costs for Monex Boom are:
Commission per order .5% with a minimum 40,000 KRW.
Sales tax for sell order only .25% for board lot and .5% for odd lot.
You can only settle your cash into USD once sold. The trading costs are obviously much worse than the free trading platforms that we have in the United States, but this barrier to entry is also beneficial allowing for a much cheaper market to invest in, with greater profit potential.
Singapore Located POEMS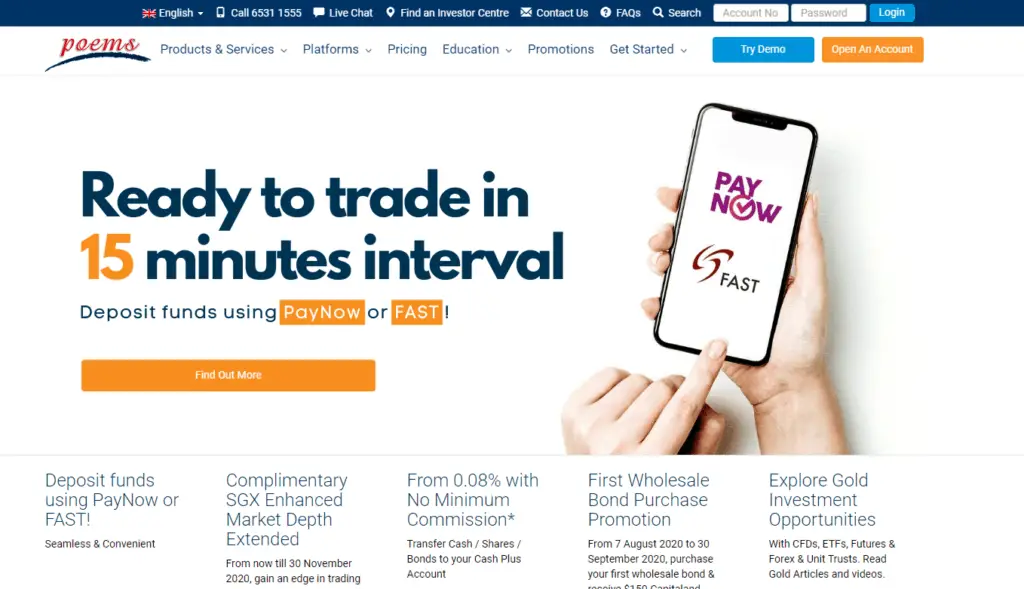 POEMS is another brokerage that can be used to invest directly in South Korean stocks for foreigners. It clearly states on their website that any foreigner can open an account, however its not clear if you also need a Singaporean bank account.
That problem is negligible though since any foreigner can get a bank account. Your money is also clearly kept separate from company funds.
Trading Costs
According to the POEMS website their South Korea Commission is .4% with a minimum of 20,000 KRW. This is a fair bit lower than Monex Boom. They also have a securities transaction tax and tax for rural development for selling shares.
Commission .4%
Sales transaction tax .10%
Special tax for rural development .15%
These taxes are fairly high but if you are from the United States at least these taxes can be written off lowering your US taxes.
Risks Investing in Korea
There are multiple risks when investing overseas these risks include the following:
Geopolitical concerns
Currency fluctuations
Bankruptcy risks
No company information in English
While these risks may not be any more or less than any other country there are still risks to consider. That's why it is important to maintain a diversified portfolio to protect yourself from any of the specific risks I will outline in more detail below.
Geopolitical Concerns
When it comes to South Korea there is no shortage of politics. The issues with North Korea are ever present, and its proximity to China can be either beneficial or a major problem.
Currency Fluctations
To be honest this one is pretty minor compared to the amount you can either gain or lose from individual stocks. There is more risk in the fluctuation of the individual stock prices than there is in the fluctuation from currencies.
Bankruptcy Risks
When I talk about bankruptcy risks I'm talking about the brokerage. As far as I know Boom Monex is not FDIC insured because it is not registered in the United States. The FDIC insurance for companies that have it, allows for regaining $250,000 worth of your funds from the brokerage that goes under.
No English Company Info
It can be difficult to invest as it is, but with no information in English it can become even more difficult. My longtime experience investing in Japanese stocks has made me a bit of an expert on this though.
The secret is to just rely on the numbers and glean anything you can from google translate. The best place to look up the financials for Korean stocks is from Investing.com.
ETFs to Buy Exposure in South Korea
There are a few ETFs that you can invest in to gain exposure to South Korean Stocks. These are:
EWY iShares MSCI
HKOR Korea KOSPI
FLKR Franklin FTSE South Korea
These are all a great way to gain exposure to the overall market however, none of these include smaller companies. Which makes it almost useless.
If you want to invest in the smallest companies you will need to trade individual stocks. You can do this by using the two brokers I listed above.
Which South Korean Broker Should Foreigners Use
Of the two brokers I listed above, I am in favor of POEMS. Their overall feel and English communication is great. Plus they have the added benefit of being cheaper.
I also like the fact that they are in Singapore and not Hong Kong. Since Hong Kong is under Chinese rule. Even though Monex Boom is Japanese owned its operations are all in Hong Kong which poses more risk than if it where located in Japan.
Why You Should Use These Brokers
As a small retail investor I choose to use either of these brokers because I am managing a much smaller sum of money than the pros, less than 1 million.
Because I am managing a smaller amount of money I am able to actually make a dent in my portfolio value as valuations rise. The pros can't operate in the space of micro caps because they have too much money to invest. It would take them months to buy and sell on the daily volumes, whereas it takes me a few days.
If you enjoyed this article or are thinking about investing internationally in small caps bookmark this article and check back regularly for more information.
ExploitInvesting.com is not a registered investment, legal or tax advisor or a broker/ dealer. All investment/financial opinions expressed by ExploitInvesting.com are from my personal research and experience and intended to be educational.